USB to RJ45 Dongle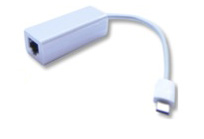 Features :
Connect laptop, Tablet PC to an Ethernet network
High speed data transfer rate
Enable to connect to the internet via the USB port Powered by USB port, no external power adapter required
Half/full duplex 10/100Mbps operation
Self-adapting 10Mbps or 100Mbps network adapter
Compliant to USB interface version 1.0/1.1/2.0
Compatible with Windows 98SE/ME/2000/2003/XP/Vista/windows7
Smart appearance with aluminum case on both top & bottom side
Easy to carrying
Application :
Customized Solution
ACON's Custom Cables provide you with complete design flexibility to meet your requirements.
We can build the cable to your specification, once we know the Pin Assignment, Connectors (if any), Current and Voltage, Mechanical Restriction (length, size etc.) and RoHS/HF Requirement etc.